Parking confusion over break in Haywards Heath yellow lines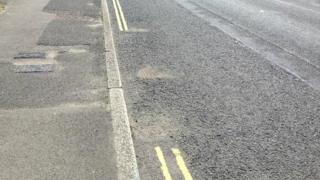 A car-sized break in a set of double yellow lines on a road in Haywards Heath has left motorists baffled.
Several drivers who have parked their vehicles in the gap on Perrymount Road found they had been issued a parking ticket when they returned.
West Sussex County Council had said the parking restriction applied even with the gap in the lines.
But parking officials have now decided the rule will no longer be enforced until new lines have been painted.
No explanation has been given for why the gap existed.
Perrymount Road is close to Haywards Heath railway station so the spot has proved popular with commuters looking to catch a train.
'Open to interpretation'
Jeremy Wainwright was one of those caught out having thought the gap was "clearly a visible parking space between the double yellow lines".
He said he would appeal against the "ridiculous" ticket, but added he was "very annoyed" because of the inconvenience and cost he would incur through the appeals process.
Jeanette Miller, a solicitor and parking law expert, said the matter was a "grey area" which was "open to interpretation" because of a lack of previous cases where such a large space was left in yellow lines.
She added that previous appeal tribunals had found in favour of councils even when double yellow lines had spaces in them, although motorists were still correct to challenge them.
A spokesman for West Sussex County Council has confirmed the rules would "not be enforced until the lines have been painted and the new traffic regulation order has been sealed".
They had previously insisted that a "vehicle would still be parked in contravention of the restriction" if it was found in the gap.
The council had admitted the restriction may not have been enforceable because the rule could be considered unclear for motorists.