Hastings homes left empty 'could be bought' by council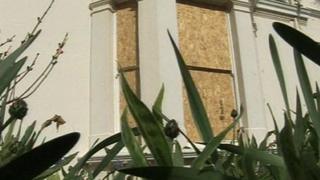 Dozens of empty properties could be bought by Hastings council under compulsory purchase powers in a move to bring them back into use.
The council said taking action would increase good quality housing in the town and reduce eyesores because some properties looked almost derelict.
Since 2010, the authority has bought 42 homes to bring them back into occupation.
Action is now being considered over a further 27 privately-owned homes.
The council said tackling empty properties would also reduce anti-social behaviour associated with empty buildings, such as rubbish-dumping, vandalism, arson and drug taking.
Council leader Jeremy Birch said: "We're looking at properties that have been empty for three, four, five, but some of them seven, eight, even 10 years."
'Probate issues'
The council would contact owners to tell them it will compulsorily purchase their properties unless they bring them back into use, he said.
Mr Birch said homes were sometimes left empty because of probate issues, and sometimes because owners were unable to renovate them.
"There are a number of different reasons, but whatever they are it's not acceptable in our town to keep a property long-term empty when other people need homes," he said.
He said the scheme could provide an incentive to owners to bring homes back into use, and added that people might take action voluntarily with property prices going up.
Mr Birch said the action was "universally supported" by ordinary people and sent an important signal to owners.