Twins born to 'good match' red pandas at Drusillas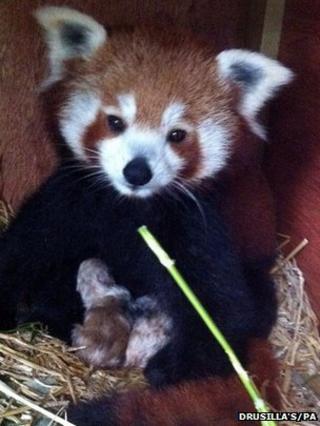 Two young red pandas have produced twins just over a year after their arrival at an East Sussex zoo.
The babies, one male and one female, were born to Tibao and Mulan, who were paired at Drusillas as part of a European breeding programme.
Keeper Mark Kenward said the zoo tried to ensure paired animals were a good match of personalities as well as genetically.
The babies, born a month ago, will be named in the next few days.
Vulnerable
Their arrival has just been announced because the zoo wanted to be sure they were healthy first.
They are the first red pandas to be born at the zoo, in Alfriston.
Mulan and Tibao, who are both aged two, arrived at Drusilla's from Asson Zoo in France and Paignton Zoo in Devon.
The red panda is classed as vulnerable by the International Union for Conservation of Nature as its wild number is estimated at under 10,000.
"Once they start breeding in captivity they do really well," said Mr Kenward.
'Bit playful'
"It's just getting them going, but we seem to have done very well."
He said the mother, Mulan, grew up overnight once the twins were born.
"She has always been a bit of a child herself - a bit playful - and always has a mad five minutes in the morning.
"But she has not put a foot wrong.
"I am as proud as I can be of her. She takes care of those babies amazingly well."
Mr Kenward said red pandas were not closely related to the giant panda, but both fed on bamboo.