Rampion offshore wind farm approved by government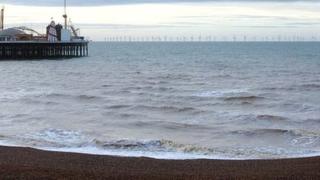 A wind farm off the Sussex coast which could generate enough electricity to power 450,000 homes has been approved by the government.
The 700 megawatt Rampion wind farm would consist of up to 175 turbines built eight miles (13km) off the coast between Peacehaven and Worthing.
The government said the £2bn project being led by developer E.On would create more than 750 jobs.
Construction should begin in 2015 if the company chooses to go ahead.
E.On must make a final investment decision on the project and apply for subsidies from the government before building work will start.
Energy and Climate Change Secretary Ed Davey said the decision was "great news for Sussex" and would create "green jobs as well as driving business opportunities right across the country".
Climate change goals
Some residents and businesses have previously voiced concerns about the impact on fishing and the environment as the wind farm would be visible from areas like the South Downs National Park.
Michael Lewis, the chief operating officer for E.On Renewables, said he was "delighted" that plans had been approved.
"We firmly believe Rampion will play an important role in helping to ensure future security of supply and make a significant contribution towards meeting the UK's renewable energy targets," he said.
Environmental activists Friends of the Earth welcomed the decision saying it was "fantastic news".
Campaigner Brenda Pollack also called on the government to "seize the opportunity" to support more wind farms.
"The UK's huge wind potential could make a major contribution to our energy needs and help Britain meet its climate change goals", she said.
However, Dr Tony Whitbread, the chief executive of the Sussex Wildlife Trust, has raised concerns about the impact it would have on the region.
He said that while he was generally in favour of the plan he was worried about potential damage caused by the route of the cabling across the national park.
Dr Whitbread also said the position of the wind farm would mean a loss of habitat and nesting sites for fish.
E.On has estimated that the site could start generating power from 2018 or 2019.