East Sussex council warns of 'tough decisions' ahead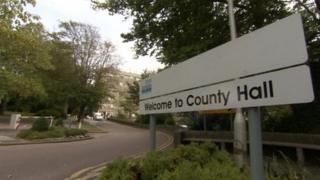 Budget cuts of up to £90m are likely to be necessary to balance the books at East Sussex County Council in the three years from 2016, it has been told.
The authority has already taken steps to reduce spending in the six years up to March 2016 by £89m.
But a report by the chief executive presented to councillors suggests more cuts are likely if a reduction in central government funding continues.
"We need to prepare for the worst case scenario," the deputy leader said.
'Four priorities'
Councillor David Elkin said there were "many unknowns" for local authorities due to next year's General Election and "tough decisions" would have to be made.
At a cabinet meeting on Tuesday, councillors renewed the council's commitment to four priorities - driving economic growth, keeping vulnerable people safe, helping people help themselves and making best use of the council's resources.
Mr Elkin said: "As with all the changes we have made so far, we will continue to work with residents and organisations to ensure that no-one is left without access to a service that they rely upon, although it would be naive to assume that there will be no change to services.
"Our approach is, and will continue to be, to look at what services we need to deliver and work with residents and partners to deliver these to the highest standard with the money available."
The Conservatives have minority control of East Sussex County Council with 20 of the 49 seats. The Liberal Democrats are the next biggest party with 10 seats.