Burgess Hill fish deaths investigated by Environment Agency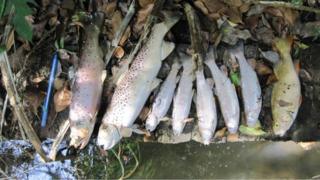 More than 900 fish have been found dead in a river in West Sussex.
Southern Water and Environment Agency staff discovered the fish while inspecting the River Adur East in Burgess Hill after a discharge of sewage from a pumping station.
Southern Water said it did not believe the release, from its Fairplace Hill pumping station, killed the fish.
Water samples have been taken and the Environment Agency is investigating what it calls a "serious incident".
Jamie Benton, from the agency, said the water company had informed it on 16 July of the discharge after a pump failed.
Workers then found the dead fish, which included brown trout, roach and eels.
'Toxic to fish'
They had been dead for 24 to 36 hours, Mr Benton said. The water firm used pumps to oxygenate the water.
Mr Benton said other dead fish had also been found above the pumping station's outlet.
"We are investigating other lines of inquiry," he said.
"There are other small sites with package treatment plants which could have contributed."
In a statement, Southern Water said: "Other pollution sources are believed to have contributed and are being investigated by the agency.
"Samples taken upstream of our release point are currently being tested.
"The ammonia levels in them, which would be toxic to fish, appeared to be very high which is why the agency is investigating other pollution sources upstream of our release point."