Indian monument more accessible for Brighton walkers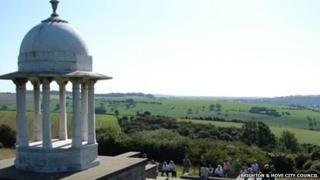 Walkers in Sussex can visit the Chattri monument to Indian soldiers and ancient burial mounds with the creation of a new area of "open access" land.
It adjoins existing areas created by the city council around Brighton and Hove, much of which is crossed by rights of way and other paths.
The new site on the South Downs covers 670 acres (271 hectares).
The monument above Patcham marks where World War One soldiers who died at the Royal Pavilion Hospital were cremated.
Farmed crops
Previously, the site was accessible via a bridleway, forming part of the "Chattri & the Windmills" route.
The new area of "open access" adjoins land in and around Stanmer Park.
New footpaths and bridleways have been created allowing people to walk anywhere except where there are farmed crops.
Other moves by the council have included the building of a new cycle and pedestrian track over the South Downs between Woodingdean and Falmer.
Another is being built alongside Ditchling Road to Stanmer Park.