Eastbourne cyclist 'breaks record' for Europe ride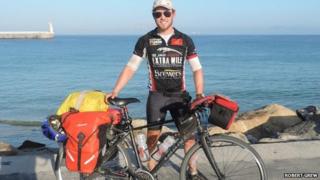 A cyclist claims he has broken the record for the fastest time riding solo from the northern tip of mainland Europe to its most southerly point.
Robert Grew, from Eastbourne, Sussex cycled more than 3,600 miles (5,793km) from Nordkapp in Norway to Tarifa in Spain, in 39 days and seven hours.
The 25-year-old beat the previous record time by four and a half hours.
He said the ride across the continent, completed without a support team, was an "amazing accomplishment".
His journey began within the Arctic Circle on 4 June and he faced temperatures of up to 40C (104F) on the way to his destination.
One hour's sleep
In order to beat the 2012 record he rode through the night on the final stage, cycling 200 miles (321km) with only an hour's sleep in a petrol station car park along the way.
He was raising money for St Wilfrid's Hospice, the Eastbourne charity he works for, and Tuesday O'Hara Fund, which supports young people suffering from leukaemia and other cancers.
"I get to see on a daily basis the huge impact the skilled and compassionate care provided by the St Wilfrid's nurses has on the lives of patients with complex needs as they near end of life," he said.
Guinness had given the challenge an official record attempt status but have not yet ratified it as a world record.
Nordkapp is considered to be the most northern tip of mainland Europe for the record as it is the furthest point which can be reached by road.