Sussex women 'terrified' by bedroom intruders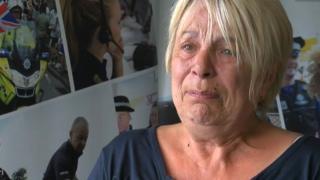 Three different woman woke to find intruders had broken into their homes as they slept, over the space of four days in two towns on the Sussex coast.
A pensioner in Bexhill-on-Sea said she "thought she would die" after waking to find a man in her room who began to suffocate her.
In St Leonards-on-Sea, two different women found men in their bedrooms, while a fourth woman confronted somebody trying to break into her home.
Police have appealed for witnesses.
In the early hours of Sunday, Jane Howden woke to find a burglar rummaging through her belongings in her home in Eversley Road.
When the intruder noticed the 68-year-old, she said that person put their hands "over my mouth and my nose and started suffocating me".
The burglar then spent 10 minutes in the bedroom, taking two antique gold rings and a pearl necklace from a jewellery box, before escaping through a window, jumping 10ft (3m) to the ground.
'Opportunistic burglars'
Ms Howden said she was terrified by the break-in and believed the intruder had to be caught "because they'll end up killing someone".
Five miles away in St Leonards-on-Sea, two separate intruders broke into the bedrooms of women on Friday.
One woman, who lives in Albany Road, had jewellery stolen by a man described as tall, in his 20s and with dark hair, who woke her in her bedroom.
Another woman in Sedlescombe Road North, confronted a different man who fled when she woke up.
On Tuesday, a woman living in Spring Street was disturbed by someone trying to break in through her front door but fled after being discovered.
Sussex Police have said they have increased the number of officers patrolling the area, although they are not linking the break-ins.
Insp Chris Veale said the four incidents were "disturbing" and "a shock" for each of the victims.
He also warned householders about leaving windows and doors open at night during hot weather describing them as "an invitation to opportunistic burglars".