MP campaigns for Henry Allingham sculpture in Whitehall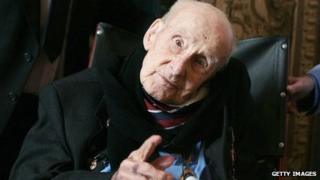 A statue of one of Britain's last World War One veterans should be placed in London's Whitehall, an MP has said.
Henry Allingham was the world's oldest man when he died in July 2009, aged 113, at St Dunstan's (now Blind Veterans UK) care home in Ovingdean.
Simon Kirby, MP for Brighton Kemptown and Peacehaven, asked Defence Secretary Michael Fallon to consider publicly funding the tribute.
It comes ahead of the 100th anniversary of the start of the war, on 4 August.
Mr Kirby said: "Henry Allingham represents so much that is good about Britain... his life deserves to be marked in this way."
Mr Allingham, who was born on 6 June 1896 and spent most of his life in Eastbourne, East Sussex, joined the Royal Navy Air Service in September 1915 before transferring to the RAF in April 1918.
He became Britain's oldest ever man in March 2009 when he reached 112 years and 296 days.
He was buried with full military honours.