Brighton Pride celebrated by thousands on the streets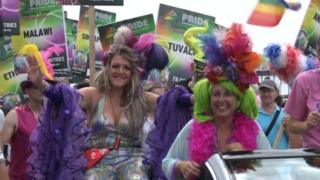 Thousands of people have been out on the streets of Brighton and Hove to celebrate this year's Pride festival.
The Brighton Pride parade received loud claps and cheers as it made its way from the seafront through the city centre towards Preston Park, where a party was being held into the evening.
This year's theme was The World's a Disco to celebrate the dance, music and colour of the globe, a spokesman said.
The parade also highlighted countries where homosexual acts are illegal.
Seventy-eight placards were carried by campaigners under the theme Freedom To Live.
The Brighton Pride spokesman said costumes and floats highlighted not only the diversity of the world's dance floors but the plight of those across the globe whose basic freedom to live was denied.
Sussex Police also joined the parade and flew the Pride flag outside Brighton's main police station.
Ch Supt Nev Kemp, the city's divisional commander, said: "It's an honour to be a part of the biggest event in Brighton and Hove's calendar which celebrates our LGBT (lesbian, gay, bisexual and transgender) community and showcases our wonderful city."
Brighton MP Caroline Lucas also received loud cheers as she made her way along the route on the Green Party float.
She tweeted a picture of herself with a Green Party supporter as she prepared to take part in the day's events, describing the parade as "wonderful".
Appearances from boy band Blue, Katy B and a disco finale from X Factor winner Sam Bailey were set to be the highlights of the ticketed party in Preston Park.