Several arrests at 'amazing and fun' Brighton Pride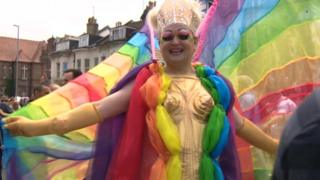 A total of 28 arrests were made at an otherwise hugely successful Brighton Pride festival, Sussex Police said.
Up to 160,000 people are thought to have attended Saturday's event, which began with a parade through the city and ended with a party in Preston Park.
Those detained were held over offences relating to possession of drugs, theft, actual bodily harm and public disorder.
Ch Supt Nev Kemp said the arrests were to be expected given the event's size.
He said a visible police presence would remain for the rest of the weekend.
"This is one of the biggest policing operations we manage, and it could not happen without the support and hard work from all those involved and the thousands of people who travel from far and wide to attend it and help make it an amazing and fun event," Ch Supt Kemp said.
This year's theme was The World's a Disco to celebrate the dance, music and colour of the globe.
The parade also highlighted countries where homosexual acts are illegal, under the theme Freedom To Live.