Traders salvage stock on fire-damaged Eastbourne Pier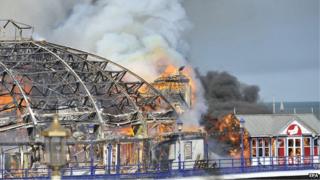 Traders have returned to Eastbourne Pier to salvage their stock after the fire that destroyed part of the structure last week.
Sammy Morgan, who has a shop at the end of the East Sussex pier, said they were given 48 hours to remove their stock.
After that, the pier will be closed and secured and work will start on removing the damaged dome, she said.
The former soldier opened a teddy bear factory three weeks ago to raise money to help bereaved military families.
'Heart-destroying' return
"Thankfully when we walked in it was not burnt. We think we can salvage everything which is not what we were expecting at all," she said.
Ms Morgan said it had been a "heart-destroying" experience returning to the pier.
She said: "We're having to walk down a little gangplank that they've built over the floor that has disappeared which is quite scary. It's just upsetting, it's horrible."
She said some people returned to find their businesses had burned to the floor.
"One young girl was in tears earlier, [but] for us it was relief."
Army reservists have come to the aid of traders by storing belongings.
Capt Andy Layzell said Ms Morgan had asked about space and the reservists would be taking some containers.
"We're delighted to help," he said.
"We're expecting up to nine containers. We're not sure yet what size they're going to be, but we've got the space and we can look after them."
The Eastbourne Pier Benevolent Fund has been set up to help traders and the town is receiving £2m from the government.
About 80 firefighters, along with RNLI crews, tackled the fire which destroyed the dome-shaped arcade and much of the platform around it on the Grade II Victorian pier.
Sussex Police are treating the blaze as suspicious.