Eastbourne Pier 'may be open by Christmas'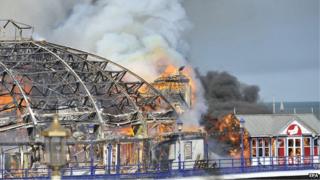 Eastbourne Pier, which was massively damaged by fire on 30 July, could be partially open by Christmas, the owners have said.
The blaze destroyed about a third of the 1,000ft (300m) long structure.
Christos Stylianou, the pier's general manager, said: "Part of the pier could be open before Christmas, if structural engineers give [the] green light."
Police believe the blaze on the 144-year-old, Grade II-listed pier may have been started deliberately.
Mr Stylianou said work would begin on creating walkways from the pier entrance to the undamaged sea-end of the pier, which houses the Atlantis nightclub and other entertainment venues.
"Further ahead we will be working closely with the local authority and all its planning departments, including English Heritage, on how we can best replace the destroyed parts of the pier," Mr Stylianou said.
The fire broke out behind some wood panelling in the arcade building, sending huge plumes of smoke into the air.
The scene was described by one onlooker as an "absolute red, molten mess of flame and smoke".