Pagham beachfront homes threatened again after storms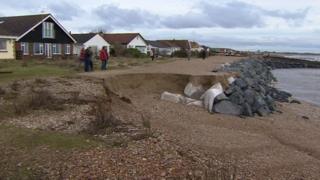 People living near a beach in West Sussex have said their homes are under threat after sea defences were damaged for the second time this year.
The defences at Pagham, near Chichester, were washed away after the tail end of Hurricane Bertha caused further beach erosion at the weekend.
Sea defences were completed in December, but damaged by strong tides the following month.
About 5m (16ft) of the 12m (39ft) beach was eroded over the weekend.
Earlier this year, the Environment Agency pledged £70,000 and Arun District Council £100,000 to repair the defences after the damage in January.
'Highly dangerous'
Roger Spencer, lead engineer at Arun District Council, outlined the short-term solution to the latest damage, and said that contractors would arrive on Tuesday morning with more shingle for the beach.
"We've also been in close contact with the Environment Agency and they've pledged 400 tonnes of rock, also arriving tomorrow morning, to help bolster up the defences," he said.
But residents say the only long-term solution is to create a hole in the shingle spit, which has grown substantially in recent years, encasing the harbour.
David Huntley, chairman of Pagham Beach Residents' Association, said: "This business of adaptive management - waiting to see what happens - I call 'leave it to the last minute and panic'.
"We are in a highly dangerous situation. These people in small houses have lost 6m in 48 hours, and they could lose another six over the next few high tides.
"I think it's unsatisfactory."
The council said it did not believe breaching the spit would be a viable long-term solution.