Hastings rapist Paul Akrofi jailed for life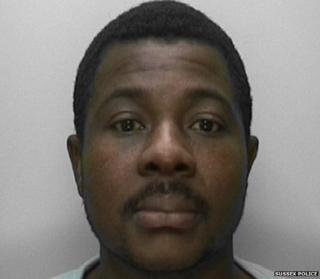 A rapist has been jailed for life for attacking three vulnerable women in Hastings.
Paul Akrofi, 32, from the East Sussex town, was convicted of six sex offences in a trial at Lewes Crown Court.
Police said he sexually assaulted one woman last July, raped another on the beach in September and then assaulted and raped a third woman days later.
They said Akrofi, who was told he would serve a minimum of 10 years, exploited his victims' vulnerable mental health.
He will also be put on the sex offenders register for life and has been recommended for deportation to Ghana.
The force spokesman said Akrofi convinced the first woman, a 36-year-old, that he was interested in her religion. She invited him to her home where he subjected her to two sexual assaults in her bed.
'Courage and fortitude'
He raped a 33-year-old woman on the beach on 21 September after meeting her in a bar in Hastings town centre earlier that night, police said.
Akrofi then befriended a 31-year-old woman after seeing her at a church in St Leonards and later met her in the town centre on 26 September.
He persuaded her to drink and go to her home, where he raped her and carried out two other serious sexual assaults, the force spokesman said.
Akrofi was convicted of two counts of assault by penetration, one of sexual assault, and three counts of rape.
Det Sgt Lee Floyd said; "Paul Akrofi systematically targeted his victims, exploiting their mental health vulnerabilities.
"We worked closely with the Crown Prosecution Service and with specialist victim support services which helped considerably in enabling the victims to be confident and able to give evidence in court.
"We admire the courage and fortitude of each of the victims, firstly in coming forward and then in giving their evidence in court."