Unexploded bomb fear closes road into Gatwick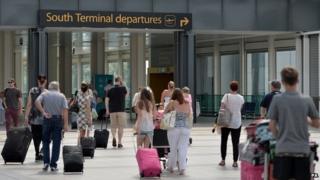 One of the main roads into Gatwick Airport was closed for nearly two hours after workmen found what was feared to be an unexploded wartime shell.
An Army bomb disposal team was called and guests in nearby hotels were advised to stay indoors when the 1.5ft (45cm) object was discovered.
Sussex Police said the road had to be closed to protect members of the public but the airport had remained open.
The object turned out to be a piece of metal pipe.
The road was closed in both directions between the Fleming Way roundabout at Astral Towers and the Lowfield Heath roundabout at about 12:50 BST.
It reopened once the bomb squad declared the object to be safe.