Views sought on West Sussex mineral exploration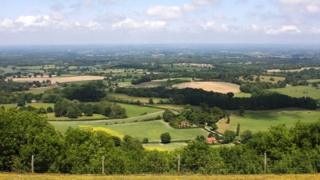 A list of 27 potential sites for future mineral exploration in West Sussex is to be made available for the public to comment on.
The list is part of the new Minerals Local Plan, which is being put together by the county council and the South Downs National Park Authority.
The county's resources include clay, soft sand, chalk, oil and gas.
Under the plan which will run until 2031, no preferred sites have yet been identified, a spokesman said.
Among those being considered are Woodmancote; Slades Field and Duncton Common in Chichester; Shoreham Cement Works and Philpots Quarry in East Grinstead.
The plan's spokesman said it would ensure the protection of communities and the environment by directing development to the "most appropriate locations".
Keith Reed, the South Downs National Park Authority's deputy director of planning, said: "We are working closely in partnership with West Sussex County Council to identify land for minerals while safeguarding the special landscapes, wildlife and communities of this part of the South Downs.
"The Mineral Local Plan is critical to achieving this goal."
The consultation will run until 22 September. The draft plan is due to be published next year.