Mods return to 'spiritual home' of Brighton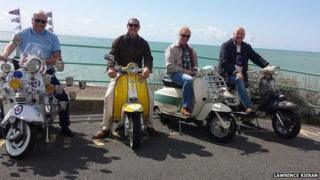 The mod scene has returned to its "spiritual home" of Brighton, East Sussex, for a weekend of celebrations over the August bank holiday.
The Brighton Mod Weekender, which began 10 years ago, saw mods gather at the Volks Tavern, close to Brighton Pier, on Saturday and Sunday, ahead of evening events at the Komedia Theatre.
Live music and a market selling vintage clothes, memorabilia and art were among the entertainments while a scooter ride-out was the highlight of the day.
Jason Papanicola, owner of the Volks Tavern, said mods had travelled to Brighton from all over the country, and from as far afield as France and Switzerland.
"There are hundreds of scooters here," he said.
The pilgrimage comes 50 years after the infamous clashes between rival youth cultures the mods and the rockers at seaside resorts on the south coast of England.
Scores of youths were jailed after violent clashes between rival gangs in Hastings, Margate, Clacton and Brighton in 1964.
The so-called "Battle of Brighton" on the Whitsun bank holiday weekend in May that year, was later dramatised in the 1979 film Quadrophenia.
Up to 3,000 youths descended on the city on the Sunday morning, with the rockers arriving on the beach to be challenged by greater numbers of mods.
The clashes continued the next day. In Brighton, the police cells got so full, officers had to think twice before arresting more youths.
Prof Ken German, a rocker and former policeman, said: "If there's a couple of drunks in a group of half a dozen, or eight, you'd pull them to one side and say, 'Look it's either nicked or go'.
"Cos the cells were getting pretty full up, you know."
The mods had their had designer suits, Vespa and Lambretta scooters and The Who, while the rockers had leathers, motorbikes and Elvis.
Reminiscing about the time, rocker Pete Sarling said: "We didn't wear helmets so much. Only when it rained. I used to wear a hat and, when I went fast, turn it round the other way.
"I was a bit disdainful of scooters really because they were slow and well, they were designed for girls."
Mod Steve Barrow said: "Undoubtedly on the part of certain people there was a genuine animosity.
"Like we rode scooters, they rode big motorbikes, so they looked down on us for riding scooters.
"But the scooter was the sort of urban mode of transport par excellence."
Tony Edwards, another mod, said rockers would kick at the scooters, laugh and call them hairdryers.
"Because in the early days there weren't a huge amount of mods," he said.
"But over time there were more mods than rockers, so the boot was on the other foot."
Mods took pristine care of their appearance and were known for their love of smart suits, most of which were tailor-made.
Roger Collings said: "I had my first suit made-to-measure when I was nearly 15.
"We used to take drawings along and say, 'That's what I want' And the tailor would say 'You can't have that'.
"And we'd say, 'I'm paying, that's what I want'.
"We always wanted the next best thing," he added. "It was kind of ambitious. It was kind of elitist. But I don't think we thought of it as that.
"We just wanted to be, you know, the top man really."
Mods and Rockers Rebooted was broadcast on Friday, 22 August 2014 on BBC One South East, South and East at 19:30 BST. It will also be available on the iPlayer nationwide for seven days thereafter.