Brighton seafront arch repair 'hurting trade'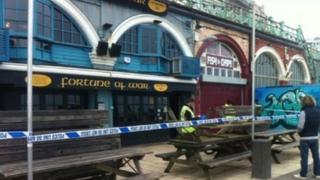 Traders have complained that work to repair seafront arches has taken longer than expected.
Arches underneath King's Road collapsed in April following building work on the roof of a pub. A "large depression" was created in the road above.
Repair work was scheduled to take eight weeks, but has not been completed.
John Bailly, who is a business owner, said his trade had been "badly affected" by tourists avoiding the area.
He said: "They've built houses and blocks of flats in the time they've taken to fix the hole."
He added: "It's disgusting, really - they've had it since April and they could've found out the problems by then, surely."
Andrew Renaut, from Brighton and Hove City Council, said: "I really understand people's frustration with the length of time this project is taking.
"Unfortunately the work is more complex than we expected and we are working really hard with our contractors and the property owners to design and build a safe solution."