White Rock Baths BMX and skate park funding is finalised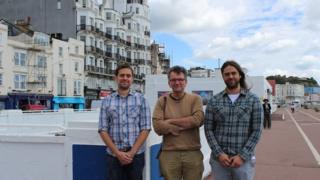 Funding has been finalised for a "world-class" BMX and skateboarding park in near-derelict old baths.
The plans will see White Rock Baths under the promenade in Hastings become a subterranean attraction employing over 30 people.
The £1.17m cost will be funded by the borough and county councils, landowner the Foreshore Trust, and The Source BMX shop, which will fit it out.
The money will come from a mixture of grants and loans.
'Exciting proposal'
Hastings Borough Council has pledged up to £172,000 in a grant to the Foreshore Trust plus a loan of £300,000 to be funded by rental income.
The Foreshore Trust itself will invest £150,000, while East Sussex County Council has agreed a grant of £320,000 and a loan of £28,000 from East Sussex Invest business support scheme.
Councillor Peter Chowney said: "We are very pleased that funding has now been finalised for this very exciting proposal by The Source.
"It has taken considerable time to find a productive and appropriate use for the baths, having the funding in place means that this site can be developed into a world-class facility that will greatly improve this area of our seafront."