Brighton Corn Exchange and Studio Theatre plans unveiled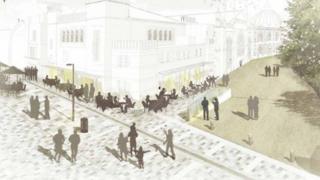 Plans for the redevelopment of the Corn Exchange and the Studio Theatre in Brighton have been unveiled.
The plans are part of the £35m revamp of the Royal Pavilion, Dome and Corn Exchange.
The application includes new seating in the Corn Exchange and an extension to the west with new foyers, a bar, box office, stairs and lifts.
New side balconies, dressing rooms and a lift are proposed for the Studio Theatre.
The Arts Council pledged £6m to the project, but an application to the Heritage Lottery Fund for funding was unsuccessful.
A council spokesman said it would continue to work with its partners and key stakeholders to develop its approach for future funding applications in the coming months.