Crawley food company Pasta Reale in administration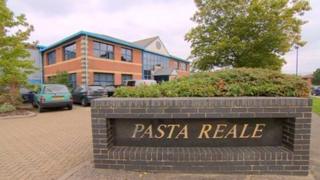 A pasta-making firm has gone into administration with the loss of 169 jobs in West Sussex.
Accountancy firm BDO, who are administrators for Pasta Reale, issued a statement which said the Crawley-based company had ceased to trade.
Business restructuring partner Matthew Tait said Pasta Reale had seen a loss of custom over the past year.
He said a purchaser was being sought for the facilities and assets of the company.
Mr Tait said the company manufactured fresh pasta and filled pasta products.
He said: "Despite the best efforts of the company's directors and stakeholders in the past months, the directors were left with no option but to place the company into administration.
"Going forward, we will seek to achieve a sale of the company's facilities and assets and maximise recoveries for creditors."
'Big loss'
Crawley MP Henry Smith said the news was "very disappointing".
He said: "To see a very familiar firm on the Crawley landscape for the last few decades apparently in administration is very unfortunate."
He said any workers facing redundancy could attend a jobs fair in the town on 19 September, go to Jobcentre Plus, and also contact him for help with any concerns or issues.
Factory supervisor Kathiravetpillai Jeyaratnam, who worked for Pasta Reale for 10 years, said it was a "big loss".
He said he and his wife both worked there and and added: "It is going to be hard for some time until we find another job."