Bluebell Railway extension attracts thousands more visitors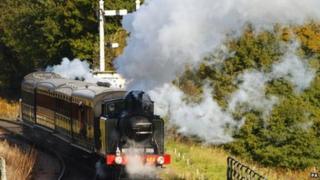 A Sussex heritage railway has seen its annual visitor numbers increase by 60,000 since it was reconnected to the mainline network.
The Bluebell Railway carried 250,000 passengers in the year after its extension from Sheffield Park to East Grinstead opened in March last year.
The two-mile stretch, which cost £3.5m, linked East Grinstead mainline station to Kingscote, 11 miles away.
Chief clerk Roy Watts said the railway had gone from a £3m to a £4m business.
"This is not just about amateurs playing trains, we like to think of ourselves as professionals," he said.
Diesel services
The Bluebell Society ran the first steam-operated passenger service on 7 August 1960, two years after British Rail closed the line, but until last year it was isolated from the national rail network.
Its increasing success means it now needs to run some diesel trains.
"The Bluebell is synonymous with the steam train so we try our absolute best to make sure that's what people get," said operations manager Chris Knibbs.
"But it's important to run a service and if its either no service or a service with a diesel we'll run a service with a diesel."
The changes have also put new demands on the volunteers on whom the railway depends.
"Now we're reconnected to East Grinstead it's a longer day - we've got more miles to cover and we do 12 hours sometimes," said engine driver Ben Coughlan.
Bluebell chairman Dick Fern said the railway had to balance the need for a professional service with keeping the volunteers happy.
"I think its possible for people to enjoy their contribution to the Bluebell," he said.
"But we also must make it very pleasurable for the people who are spending very good money to come and visit us."
Inside Out South East finds out how the Bluebell Railway copes with record numbers of passengers on BBC One at 19.30 BST on Monday.