Hassocks crossroads 'cut-engine' plea to tackle pollution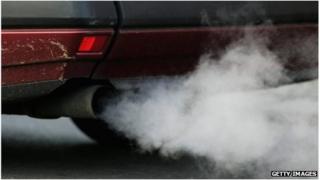 Drivers are being urged to switch off their engines while at a crossroads in Sussex in a bid to improve air quality.
Mid Sussex District council has put up "Cut engine - cut pollution" signs on each of the four approaches to the Stonepound Crossroads in Hassocks.
Councillor Christopher Snowling said turning off engines would not only help residents, but drivers could save fuel.
He said residents nearby were informed, but anyone with concerns could get in touch with the council.
Mr Snowling said air quality in the area was "not a case of panic stations" but was not as good as the council would like and was certainly not as good as most of Mid Sussex.
Mid Sussex District Council said the "slightly poorer air quality" at the crossroads was due to the volume of passing and queuing traffic and the road layout.
Other measures to tackle the problem include a review of how traffic signals are operated, trying to urge drivers to use alternative routes such as the A23, and encouraging people to walk, cycle or use the bus.
Councillor Pieter Montyn, cabinet member for highways and transport at West Sussex County Council, which is also working to tackle the issue, said: "Drivers may not think that they are stopped for long but every little helps. It's important that we all do what we can."