Eastbourne Pier could partially 're-open by end of year'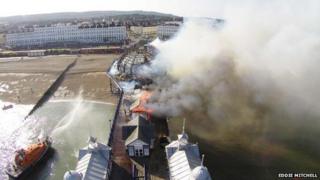 Eastbourne's fire-damaged pier could reopen to the public by the end of the year.
Owners Cuerden Leisure is in talks with the Health and Safety Executive (HSE) about creating access around the damaged third, so visitors could visit the remaining parts of the pier.
The pier was partially destroyed by a blaze on 31 July.
It has been closed while police and the HSE investigated the death of a workman who fell during repair work.
Stephen Penrice, 44, from Cumbria, was pronounced dead at the scene after falling on to the beach on 19 August.
A spokesman for Cuerden Leisure said: "Contractors are in dialogue with the Health and Safety Executive about resuming work on Eastbourne Pier and about recreating the public access ways around the damaged section.
"This will enable the southern end of the pier that was not damaged to re-open sometime in the final quarter of 2014."