'Battle of Hastings sword' fails to sell at auction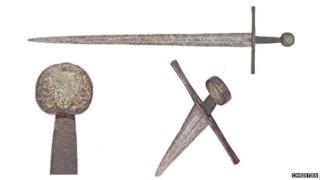 A medieval sword possibly taken as a trophy during the Battle of Hastings has failed to sell at auction.
The "extremely rare" broadsword belonged to Humphrey De Bohun, a kinsman of William The Conqueror.
Sir Humphrey fought at Hastings in 1066, where Christie's auctioneers think he could have captured the sword.
It had been hoped the sword would fetch up to £120,000 in the auction house's Out of the Ordinary sale in South Kensington.
The weapon has an earlier Viking blade, dating from the mid-11th Century.
Sir Humphrey is shown at the banquet table of Bishop Odo on the Bayeux Tapestry, which depicts the famous East Sussex battle and the events leading up to it.
"Whilst it cannot be proved, it is not at all inconceivable that the blade of the present sword was captured or taken as a trophy by De Bohun at Hastings and was later remounted to become a family sword," the Christie's spokeswoman said.
She said the sword appeared to be the first of four mentioned several generations later in a will of 1319.
For the past 50 years, it has been in the hands of two private collectors, firstly with the Australian-based Corrigan Collection, and latterly with the present, anonymous, vendor.
At the same auction, a Nebuchadnezzar of English sparkling wine signed by artists Tracey Emin, Damien Hirst, Antony Gormley and Edmund de Waal fetched £12,500.
The equivalent of 10 magnums, the bottle is claimed to be the biggest ever bottle of English sparkling wine, and was made by the Kent-based Chapel Down winery.
The money will go to the Turner Contemporary gallery in Margate.