Eastbourne £2m business case to be drafted soon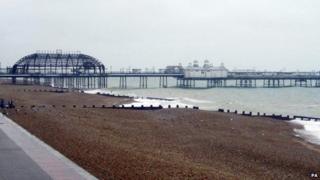 The business case needed to secure £2m of funding for Eastbourne in East Sussex will be drafted "as soon as possible".
The document, a condition to secure the award from the government, was approved at a borough council cabinet meeting on Wednesday.
Downing Street said Eastbourne was set to get the cash boost earlier this month.
The town's Victorian pier was partially destroyed by a fire on 31 July.
Prime Minister David Cameron and Chancellor George Osborne visited the pier to see the destruction first-hand following the announcement of the £2m grant.
Eastbourne Borough Council said the business plan, which will be submitted to the Department for Communities and Local Government, would outline arrangements to ensure the money is distributed to support the town's tourism economy, following the fire.
The authority has also contributed £50,000 from its reserves to the Pier Benevolent Fund, set up by Eastbourne Chamber of Commerce to help people suffering financial hardship as a result of the blaze.
The council envisages the money will be repaid from the government grant.
It said it did not expect any of the money to be spent on repairing the pier, which is owned by Cuerden Leisure and believed to be insured.