Rapist Sarbaz Najmadeen Ali on run from Hove Crown Court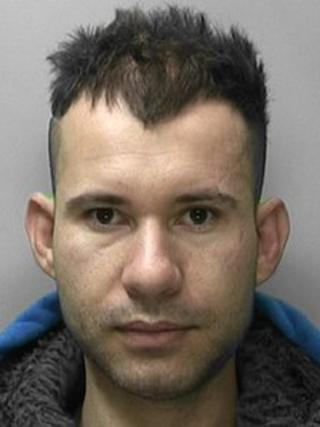 A convicted rapist is on the run after walking out of a court building during his trial.
Sarbaz Najmadeen Ali, 28, from Leonards-on-Sea, East Sussex, was convicted in his absence of the rape, attempted rape and sexual assault of a 23-year-old man in Hastings.
He was found guilty after disappearing from Hove Crown Court during the lunch break on Thursday, Sussex Police said.
Officers have been unable to trace him. An arrest warrant has been issued.
Ali was granted bail which allowed him to leave the dock during the lunch break, but not the court building.
He is 5ft 7in tall, with black hair and was unshaven around his chin at the time of his disappearance, police said.
Det Con Julian Stokes said: "There is no evidence to suggest that Ali will commit further offences while he is at large but we need to find and arrest him as quickly as possible.
"The jury has found him guilty of these nasty offences but his victim does not have justice yet as Ali has not been punished."
He appealed for anyone who knows where Ali could be to contact the force.