MP to raise essay-writing firm concerns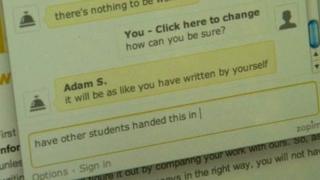 An MP has said he will raise the issue of contract cheating with the universities minister after an undercover BBC investigation found an online firm selling essays to students.
Essay Yard offers bespoke work to students in a variety of subjects which it says are for research only.
BBC South East bought essays costing £93 to £240 with the firm reassuring students they could submit them.
Folkestone and Hythe MP Damian Collins said it was "extremely disturbing".
Online companies can legitimately sell essays but students who submit them are at risk of being penalised by their university.
'Complete solution'
Mr Collins said: "I think this is intended to allow people to effectively buy their degrees.
"I do not think it is fair on students at universities who are not using these services and are working hard themselves to get the proper grades.
"I will certainly be raising this with Greg Clark who is the universities minister."
The BBC bought a number of essays from the company and asked University of Kent journalism student Cecily Snowball to approach the essay-writing firm to buy an essay on English libel law for £93 and asked if she could submit it as her own work.
She said: "I was told not to worry. I was told I would not be caught, 'it will all be just like it is mine'."
When asked by the BBC, an employee at the company said: "After we give the assignment to you it is your own property.
"If you submit it as it is, it is up to you, you are responsible for it."
The company is registered to an office at Folkestone Enterprise Centre, but when the BBC tried to find it, it could not be located. Further investigations suggest the company could be based in Dubai.
On its website, it says: "We provide complete solution for all your college and university essays, handing them to top-notch essay writers."
'Alarm bells'
On the website the company maintains the essays are for "research purposes only" and are intended to guide undergraduates.
Dr Thomas Lancaster, a plagiarism expert from Birmingham City University, looked at the finished essays provided by the firm.
He said: "There are perhaps a few imperfections in the English occasionally but nothing that would raise any major alarm bells.
"It is more than good enough to pass."
In the UK, a large majority of universities, including the University of Sussex, use a computer programme called Turnitin to analyse suspicious essays.
The software scans text for passages which match a database of 155 million student papers, 110 million documents, and 14 billion web pages.
The University of Sussex said only a "tiny" proportion of assessed work was investigated as potentially contravening rules.
The University of Kent said: 'We have severe penalties for students found to be submitting work that is not their own.
"These penalties can range from receiving zero marks for a piece of work to, in serious cases, being excluded from the university."