Rolls-Royce plans Bognor Regis technology centre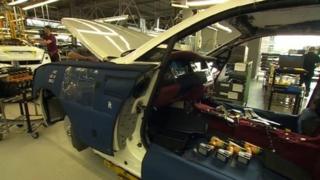 Luxury car maker Rolls-Royce is planning a new technology centre in West Sussex, eight miles from its main production plant at Goodwood.
The Technology and Logistics Centre will be the first major business to open at Oldlands Farm Business Park on the northern edge of Bognor Regis.
Arun District Council wants to develop the area as part of its Enterprise Bognor Regis initiative.
MP Nick Gibb said the centre would encourage other companies to move in.
Transfer workers
The new centre, due to open in 2016, will have three functions as an inbound warehouse for production parts, a distribution centre and a finished car store and workshop for car preparation.
It will employ about 200 people but many of them will transfer from existing locations.
Cars will continue to be built at the BMW-owned company's HQ at Goodwood, where about 1,500 people work.
Rolls-Royce said the centre would take advantage of the Bognor Regis Northern Relief Road, due to open in 2015.
"This is a significant development and it reinforces our commitment to the area here," said chief executive Torsten Müller-Ötvös.
"Demand is growing and we needed to free some space. It gives us freedom to grow further."
Mr Gibb, Conservative MP for Bognor Regis and Littlehampton, said the centre was a major boost to the Bognor Regis enterprise zone bid.
"The very fact that Rolls-Royce is investing so much money in creating a facility three quarters of the size of the Goodwood facility in our town will in the near future encourage a lot of other companies," he said.