Eastbourne pier workers get fund money after fire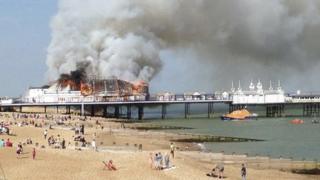 At least 11 people who have been financially affected by the fire on Eastbourne pier have received money from a fund set up to help them.
The Pier Benevolent Fund was organised in the wake of the blaze on the Victorian structure on 31 July which destroyed the front arcade section.
So far, 20 traders with shops on the pier or people employed on the attraction have applied for grants.
The amount they receive will range from £400 to £5,000.
Tim Cobb, from the Pier Committee, said: "The benevolent fund has been working hard to review every request for funding that has come in.
Repair work
"They are working their way through just over 20 requests for assistance and have paid out a good percentage of these to people already."
The fund is managed by Eastbourne District Chamber of Commerce with money donated from local people and businesses. The deadline for applications is 18 September.
Work started again on repairing the pier on Monday and the owner Cuerden Leisure said it hoped to reopen it by the end of 2014.
It has been closed while police and the HSE investigated the death of a workman who fell during repair work.
The Pier Committee is made up of the chamber of commerce, Eastbourne Borough Council, voluntary services group 3VA and Citizens Advice.