Brighton refuse drivers stage one-day strike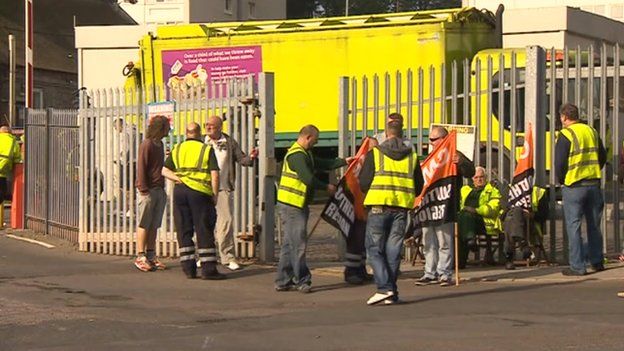 Rubbish truck drivers have gone on strike in Brighton in a row over pay.
Members of the GMB union began industrial action on Friday with a work-to-rule and are staging a 24-hour strike on Monday.
Gary Palmer, from the GMB, said the council had not listened to workers and they had been left with no choice other than to go on strike.
The council said it held talks to try to reach a resolution but was unable to meet the union's demands.
Mr Palmer said workers were not being paid the right amount for the skills they used for the job.
He said they would not back down and there could be further action.
"What we're trying to do is force the council to actually come up, wake up and come round and talk to us," he added.
When the industrial action began last week, head of Cityclean Richard Bradley said the council remained fully committed to discussions to try and prevent the disruption of services and had offered to continue conversations with the GMB.
It said it had held talks to try to avoid industrial action and would also meet the union again if the strike went ahead on Monday.
The council's Green Party leader Jason Kitcat was not available to talk to the BBC on Monday.
But opposition leader Conservative councillor Geoffrey Theobald said the union had not considered the city's residents and visitors who would see rubbish piling up.
He said there had been a full job evaluation across the council but workers had "suddenly decided" they wanted a pay increase and withdrawn their labour.
Related Internet Links
The BBC is not responsible for the content of external sites.