Bognor Regis seaside regeneration plans 'back to table'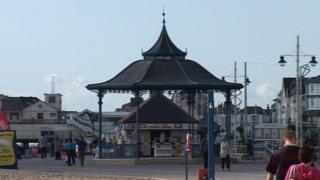 Regeneration plans for a Sussex seaside town will go back to consultation after the developer pulled out.
Arun council said it wanted to bring the Bognor Regis scheme back to the table as quickly as possible after its partnership with St Modwen ended.
The council said it would run a new consultation next year.
The scheme to enhance the seafront and town with a cinema, restaurants, pub and boardwalk was put forward eight years ago.
Chief executive Nigel Lynn said the partnership agreement with St Modwen was formed in 2007 - before the economic downturn - and many things had changed.
He said the council was talking to other developers and added: "We've got to make sure that whatever happens has to be commercially viable.
"Whether it's a cinema, whether it's a hotel, whether it's something else, it has to have a high footfall because we don't want any burden to the taxpayer."
'Taxpayers at risk'
Liberal Democrat councillor and opposition leader Francis Oppler said there was huge frustration and disappointment after "eight lost years" and criticised the Conservative-run council for proceeding without a developer.
"The idea is developers actually take the financial risk," he said.
"By the council progressing the planning application themselves - and in the recommendation paper it was going to be a minimum of half a million pounds to move this forward - it puts the council taxpayer at risk."
The council has allocated up to £500,000 for employing a project manager, architects, engineers, surveyors and other specialists to facilitate consultation and submit a planning application.
St Modwen said it remained committed to the project throughout the recession and had worked with the council to evolve the scheme.
The developer said it understood and respected the council's position and would watch progress with interest.