Brighton Hippodrome cinema plans returned to council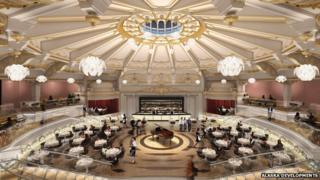 The government has rejected calls to intervene in plans to turn one of Brighton's oldest theatres into a £35m cinema and restaurant complex.
The plans for the Hippodrome theatre would see it turned into an eight-screen Vue cinema and four restaurants.
The Theatres Trust asked the housing and planning minister to look at the plans for the Grade II-listed building.
A government spokesman said: "This is a matter for Brighton and Hove City Council."
Mhora Samuel, director of the trust said: "Brighton and the Hippodrome have been let down by this decision.
"Unless the developers reconsider their scheme we will have lost the potential to stage lyric theatre and performance in the Hippodrome's unique theatrical space."
The minister, Brandon Lewis, rejected the trust's request to "call in" the planning application, together with a 2,700 signature online petition.
Changes 'reversible'
The government spokesman said: "Only a very few planning applications are 'called in' each year, as this involves the planning decision being taken away from the local council and community."
Councillor Phelim Mac Cafferty, chairman of Brighton and Hove planning committee, said: "I sympathise with campaigners who, along with councillors, would absolutely love to see the Hippodrome turned back into a theatre. But this has been looked at and the district valuer confirmed that a theatre was sadly unlikely to be viable.
"Given the important historic nature of the Hippodrome, I am happy that some of the historic features will be re-instated and the alterations inside the building are also reversible so should a proposal come forward in the future for a theatre, that would be possible," he said.
The now derelict building began life as an ice rink in 1897 before becoming a circus, which closed in 1902. It reopened as a theatre the following year.