William Blake's Jerusalem cottage to cost £500,000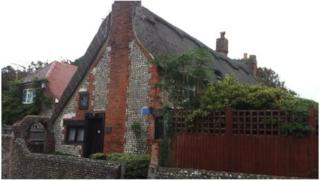 Campaigners have one month to buy the cottage where William Blake wrote his most famous poem, Jerusalem.
The Blake Society said it had until 31 October to raise £500,000 to buy the cottage in Felpham, West Sussex.
The cottage, where Blake lived between 1800 and 1803, has been privately owned by one family since 1928.
Francis Oppler, who is a Bognor Regis town councillor, said: "This would allow us to get on the cultural heritage and tourism map."
The words of Jerusalem were put to music by Hubert Parry in 1916 and are sometimes sung as an unofficial English national anthem.
---
England's 'maverick' artist
Visionary poet and engraver William Blake is recognised among the greatest contributors to English literature and art.
Blake was born in Soho in 1757 and spent most of his life in London.
His long list of works, including 1789's Songs of Innocence, are said to show "relentless energy and drive".
View a slideshow of paintings by 'maverick' artist William Blake
---
The Blake Society said the poet came from a dissenting tradition, which opposed state involvement in religious affairs. During his time at the cottage he was arrested and tried for sedition, after "rebuking a soldier".
The group said, if purchased, the cottage would be put into a charitable trust to be held for the "benefit of the nation".
It is hoped it would become a public place where writers, artists and poets could create new work.
Visitors would be able to view the property and it could also be used as a "house of refuge" for persecuted writers from around the world, the group said.
If the society does not raise the amount of money needed, it is expected the cottage will go back on the open market.