Pulborough horse destroyed after 'deliberate' entanglement in line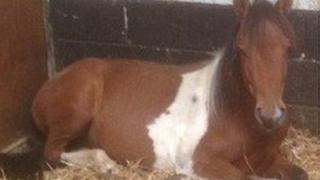 A horse has been destroyed after being found with its legs entangled in an electric fence line in what its owners believe was a "deliberate" act.
The animal, called George, was discovered lying in a field in Blackgate Lane in Pulborough, West Sussex, on 9 September.
The line was removed from his left fore and hind legs, but George had to be put to sleep days later.
His owners thought it was an accident but now believe it was deliberate.
Luke Welfare and Zoe Walker run Soul Equestrian at Scrase Farm.
Ms Walker said: "At first we thought it was just an unfortunate accident where George had got himself tangled up in the fence.
"However, the number of times that the fence line was wrapped around each foot aroused our suspicions and we called the police.
"Unfortunately, the line was so tight that it cut off circulation to both feet and the vet was unable to save them or ultimately, George."
Sussex Police is appealing for witnesses.