Battle of Hastings re-enactment to be staged after absence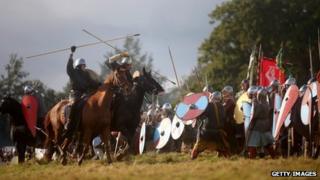 A re-enactment of the Battle of Hastings, involving 400 actors, is to be staged after a two-year absence.
The two-day event, will take place at Battle Abbey on 11 and 12 October, and will include hundreds of people in Norman and Saxon costume.
English Heritage called off the re-enactment of the 1066 battle in 2013 so grass could grow back at the battlefield site near Hastings.
In 2012, it had to be cancelled because of safety fears after torrential rain.
'Hollywood blockbuster'
To mark the announcement, two Norman cavalrymen in armour set off from Pevensey Castle, near Eastbourne, to ride to Battle Abbey.
The spectacle, which includes a company of horses, will culminate in a battle between the two opposing sides.
Lydia Tickner, from English Heritage, said it would have "more action than a Hollywood blockbuster".
Plans are already under way to mark the 950th anniversary of the Battle of Hastings on 14 October, 2016.
A series of events is being planned to mark that anniversary of the battle, in which William the Conqueror defeated King Harold.
They include a memorial service in the town's St Mary's Church to remember those who died in 1066, a military band and marching display through the town centre.
Since the 900th anniversary of the Battle of Hastings in 1966, Hastings Borough Council has held a week-long festival of events culminating in the re-enactment weekend, apart from the past two years.