Brighton handyman jailed for Hove nursing home abuse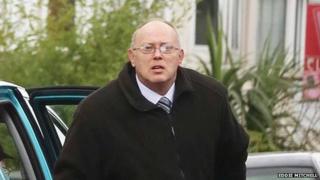 A handyman has been jailed for two years after being found guilty of sexually abusing staff and a mentally ill patient at a nursing home in Hove.
Paul Brown, 57, voyeuristically watched the naked female patient with mental difficulties and tried to kiss her on the lips at Springfields Care Home.
He was found guilty of nine offences dating back to 2006 at Brighton Crown Court last month.
Seven offences related to staff, while two involved the resident in her 70s.
Brown, of Clarendon Road, Brighton was arrested in December 2012 following reports to police from concerned members of staff at the home in Langdale Road where he worked.
Management criticised
Passing sentence, Judge Paul Tain criticised the former management at the home.
"Had the care home been appropriately managed at the time, earlier complaints would have been reacted to," he said.
After sentencing, workers at the home told BBC South East they had been scared for the residents and were pleased Brown had been jailed.
"We could only protect them as far as we could," said one.
"You couldn't move around the home without being abused or touched," said another.
Det Con Liz Starr said the investigation only started because a whistleblower phoned police anonymously.
"This conviction is down to the people who were brave enough to come and talk to us," she said.
After sentencing, Springfields said when the allegations came to light in 2012, Mr Brown was immediately suspended.
"We were deeply concerned by these allegations and commend staff for whistleblowing," it said.
"Previous managers at Springfields Nursing Home were replaced and the home is under new management, where it is providing good and safe care for all its residents and staff and is fully compliant with all CQC regulations."