Hailsham boy walks to support lightning-strike families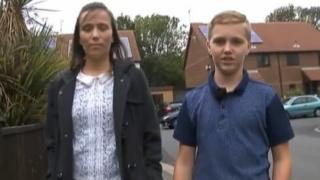 An 11-year-old boy is walking nine miles between two fire stations to raise money for people made homeless when lightning struck their flats.
Sean Eaton, from Hailsham, East Sussex, was so shocked by the damage at The Diplocks on 9 October he began planning the walk the next day.
Six families remain in temporary accommodation following a fire at the flats caused by the lightning strike.
Sean is walking with his mother Teresa and his sisters, aged 13 and 16.
They are taking the Cuckoo Trail, starting at Hailsham fire station and ending at Heathfield.
The family have already raised £500 in sponsorship.
Community fund
"I just woke up in the morning and I thought they had nothing left after that fire and we should raise some money to get some stuff back," said Sean.
His mother said she was very proud of Sean.
"Once Sean gets a thing in his head he will follow it all the way," she said.
"I've never walked along the Cuckoo Trail myself and I'm just hoping we don't get lost."
Other residents have also rallied round to help The Diplocks families, donating clothes and household items and setting up a community fund.
A Facebook group set up to support the families has 560 members and local businesses have also donated goods.