Loss of Hove fire engine 'will risk lives' says union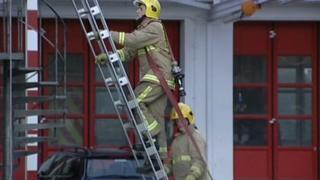 Firefighters in East Sussex have warned lives could be put at risk after it was revealed there will only be one fire engine based in Hove from April 2016.
East Sussex Fire and Rescue Service said it was halving the number of engines at the station as part of plans to save £7.1m over a five-year period.
Simon Herbert, of the Fire Brigades Union, said the change would put both the public and firefighters at risk.
The fire service said the reduction would not affect response times.
But Mr Herbert said: "We'll be turning up with insufficient personnel."
He added that fire crews would be left with the "moral dilemma" of either dealing with the fire without the right level of support, or waiting outside and doing nothing.
'Assess the danger'
However, a spokeswoman for East Sussex Fire and Recue Service said: "At any incident, the first crew on the scene will assess the dangers and risks to both members of the public and firefighters. They don't have to wait for a second crew to enter a premises and effect rescues.
"At larger scale incidents, crews will also gather information, secure water supplies, assess access and prepare equipment in preparation for the arrival and deployment of further firefighters."
The fire service maintains the cut will not affect response times, adding that fire engines could be used from other areas of the county, and also West Sussex, if necessary.
There will be four fire engines based across Hove, Preston Circus and Roedean.
Calls in the city of Brighton and Hove had reduced in number by about 32% over the last 10 years, and the decision had been taken following an in-depth assessment of the risks to public safety, the service added.