Hastings' Pelham Arcade to be taken off 'at-risk' register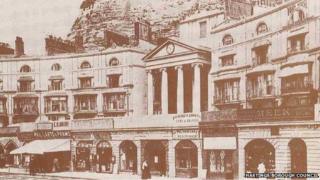 A shopping arcade in East Sussex is to be taken off English Heritage's "at-risk" register after four years of renovation work, the council says.
The 19th Century Grade II*-listed Pelham Arcade in Hastings is one of the UK's oldest shopping arcades, Hastings Borough Council said.
A roof light covering the internal walkway has been repaired and new timber shop fronts are being fitted.
The arcade consists of semi-underground shops beneath Pelham Crescent.
Pelham Crescent is made up of a number of residential properties either side of St Mary in the Castle, all of which are also Grade II*-listed.
Councillor Peter Chowney, deputy leader of Hastings Borough Council said: "The whole of Pelham Crescent is a real gem, and it is fantastic to see the arcade starting to be brought up to the standard of the crescent above."
The Regency shopping arcade was introduced to England from Paris by John Nash, with the first example being London's Royal Opera Arcade, built in 1817.
Pelham Arcade opened in August 1825. In 2011 it was upgraded from a Grade II to a Grade II* listing.
English Heritage described it as an "unprecedented exercise in town planning of an elevated crescent with a central horseshoe-shaped church, set over an arcade of shops and overlooking the sea".
Dr Andy Brown, planning and conservation director at English Heritage in the South East, said: "Restoring the historic character and appearance of this special shopping arcade which was created just after the prestigious Burlington Arcade in London, has been a priority for English Heritage."