Newhaven West Beach battle goes to Supreme Court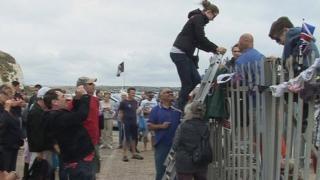 A battle over whether a beach in East Sussex should be reopened to the public has been taken to the Supreme Court.
The owners of West Beach in Newhaven are appealing against a ruling that it can be listed as a village green, giving residents the right to use it.
The two-day hearing in the Supreme Court follows a six-year dispute since Newhaven Port and Properties (NPP) shut the beach in 2008.
The company had claimed the beach was unsafe.
Newhaven Town Council and East Sussex County Council then won an Appeal Court ruling that the beach should have village green status.
'Closure unjustified'
Town councillor Rod Main said West Beach had been used by residents for 100 years.
"In that time the usage, the laws and the bylaws for the beach have not changed," he said.
"They took an arbitrary decision in 2008 to close it and we feel that is unjustified."
Campaigners fighting for access to the beach held a protest picnic on the sand in August 2013.
Kate Ashbrook from the Open Spaces Society said it was a landmark case.
"In this case the big issue is whether the port authority holding the land as a statutory authority for other purposes conflicts with the registration of the village green," she said.
"If we win it should open the door to other cases and if we lose it it would be very bad news."
The case, being heard by Lord Neuberger, Lady Hale, Lord Sumption, Lord Carnwath and Lord Hodge, ends on Tuesday.
The judges' verdict is likely to be delivered at a later date.
The directors of NPP said they would not comment until the outcome was known.