Worthing builders uncover historic shop front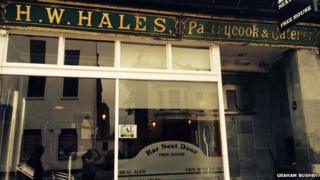 Builders renovating a bar in Worthing have uncovered an historic shop front dating from the days when the street was in an up-and-coming area.
Workmen revealed the green and gold sign of "HW Hales Pastrycook & Caterer", thought to be 120 years old.
David Sumner, chairman of the Worthing Society, said many shops in Rowlands Road at the time had similar painted glass fascias.
"These signs were put over shops with pretensions," he said.
"People didn't have illuminated signs and in all the best shop fronts they put these.
"Rowlands Road was expanding and becoming quite prosperous."
Bootleg cider
Mr Sumner said the West Sussex shop, now called Bar Next Door, had been a licensed premises even in the time of HW Hales.
"He had a licence there but he lost it because he was selling bootleg cider from Somerset - I daresay it was pretty potent stuff," he said.
"After he died it changed hands but up until the 60s there was a baker's there.
"A chap called Parsons ran it at the end and he had a licence - my wife used to go in there and have a coffee and a nip with it if she wanted."
Builder Graham Bushby said the Victorian shop sign was in very good condition.
"It was very exciting - it really, really was quite a discovery," he said.
The work also uncovered signs for earlier bars on the site called The Balmoral, The Breakers and Concorde.
Mr Bushby said the HW Hales sign would be left behind the bar's new frontage, along with a time capsule featuring photographs and information about what was found and the current owners and workmen.
"We hope somebody will find it in 50 years' time," he said.