40,000 revellers in Lewes for annual bonfire celebrations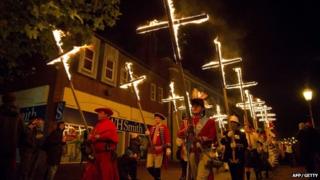 About 40,000 people were at this year's Lewes bonfire celebrations - 10,000 more than last year, police have said.
Fifty-three people were treated by ambulance crews, with four taken to hospital for injuries which were not firework-related, according to the South East Coast Ambulance Service.
Ten people were arrested for offences which included anti-social behaviour.
The event drew protests on social media over effigies of outgoing Scottish First Minister Alex Salmond.
They were withdrawn from the celebrations, with the Waterloo Bonfire Society - which produced one of the models - saying it had "no wish or intention to offend".
However, it has since emerged that one of the effigies was blown up during a firework display.
Sussex Police said it was investigating after a complaint had been received.
The event involving processions from six of the East Sussex town's seven bonfire societies, commemorates the Gunpowder Plot and 17 protestant martyrs who were burned at the stake there in the 16th Century.
In total, there were more than 30 processions with flaming torches and burning crosses intermingling with each other through the narrow streets.
Supt Laurence Taylor said about 22,000 people had travelled into Lewes by train.
"Despite 5 November falling midweek, the substantial turnout by spectators underlined its continuing popularity," he said.
"At public events of this size there is always the potential for incidents of criminal activity and anti-social behaviour."
East Sussex Fire and Rescue Service reported a "largely quiet night", saying they were called to deal with fewer than 10 incidents, which were all minor.