Brighton bins strike action suspended pending review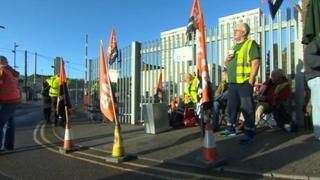 A temporary truce has been agreed in the ongoing industrial dispute between refuse truck drivers and Brighton & Hove City Council.
The GMB union has agreed to suspend industrial action from midnight following a secret ballot.
Refuse workers had held a series of strikes over pay, staff grading and responsibility, leading to rubbish piling up in the streets.
The city council said it would be reviewing drivers' job descriptions.
Council executive director Geoff Raw said it would come back to the unions on the issue by the end of December.
"We're very keen to move forward and get the service back on track.
"We're looking forward to working with staff and unions on the service redesign and to restore the service's trust and credibility with residents," he said.
The council apologised to residents affected by the industrial action, and said it had extra crews working to clear the backlog of rubbish and recycling.