Roman pond found at Barnham archaeological site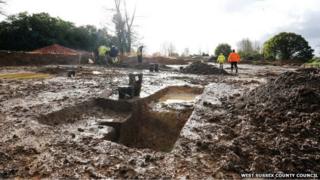 An ancient pond and Roman artefacts have been discovered in a West Sussex village by archaeologists.
The objects, dating back to AD100 show there was a Roman settlement in the village of Barnham, West Sussex County Council says.
Over the last six weeks, Roman pottery, ancient rubbish pits and ditches have been found at the site.
It is thought the settlement may have started in the late Iron Age before the Roman conquest in AD43.
The excavation work has been carried out as a condition of planning permission for the development of the county council's land at the former Angels and Hyde Nursery.
John Mills, the council's senior archaeologist, said: "All the archaeological features appear today as filled with pale grey silt, and it is usually easy to see that these must be silted-up ditches, pits and post-holes but a large round grey splodge on the site was puzzling everyone.
"Digging... showed it to be a shallow depression, which is now thought to be a silted up Roman pond.
"Most of the pits where the inhabitants were burying their household rubbish surrounded the pond."
Fragments of pottery found at the site showed that the inhabitants were getting their household pottery vessels from kilns in the Arun Valley, a council spokeswoman said.
Tiles, of the type used in under-floor heating in Roman stone buildings, were also found, which may indicate a more important Roman building nearby, she said.