Brighton Pride secured for five years after plan approval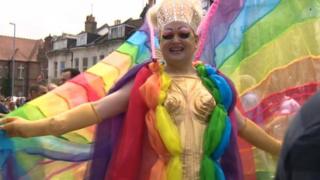 The future of Pride in Brighton has been secured after permission for the event was granted for the next five years.
Brighton and Hove City Council has approved plans to stage events in Preston Park and St James's Street over the first weekend in August.
An estimated 33,000 people attended the 2014 event, which included a new format for managing the event in Kemp Town.
The five-year application includes some variations to the current licence.
These include opening a play area in the festival site for children.
The organisers of Pride, Brighton Pride Community Interest Company (BPCIC), had applied to the council for permission to run the event until 2020.
Chairman of the council's economic development and culture committee, Geoffrey Bowden, said: "Pride is one of the city's biggest and most successful annual events and, as well as being popular with residents, attracts thousands of visitors to Brighton and Hove each year.
"We are pleased to approve the plans and welcome the event to the city for the next five years."