Plan for new 20mph speed limits in Brighton delayed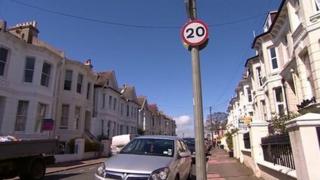 Plans to extend Brighton and Hove's 20mph zone have been delayed after some councillors said the plans were "unclear".
The council wanted to extend the zone as far as Hangleton, Saltdean and Rottingdean.
It said there had been a 17% drop in collisions in existing areas of the zone.
However, some councillors claimed there had not been enough consultation and the plans had been rushed.
Geoffrey Theobold, who leads the Conservative group on the council, said: "There's been a lack of consultation as far as the local councillors are concerned in these wards.
"Reading the report - there is confusion."