Eastbourne hospital apology after cancer patient death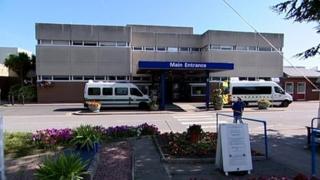 An East Sussex hospital has apologised "unreservedly" after a breast cancer patient died following an operation.
Nicole Haynes, 35, had a routine procedure at the Eastbourne District General Hospital in March 2012 to remove a tumour from her adrenal gland.
Surgeon Steve Garnett "misidentified" the arteries leading to it and "clipped the wrong vessels", an inquest heard.
Mrs Haynes died as a result of a "surgical accident" the East Sussex Coroner, Alan Craze found.
The inquest at Eastbourne Town Hall was told the surgeon had "readily admitted" the error.
The East Sussex Healthcare NHS Trust said it had carried out two investigations since Mrs Haynes' death to prevent anything similar happening again.
Operation 'gone well'
Mother-of-one Mrs Haynes, from Pevensey Bay near Eastbourne, had keyhole surgery to remove a tumour in March 2012 after doctors became concerned it could be a secondary tumour related to her breast cancer.
Mr Garnett told the inquest he had believed he had identified the blood vessels which needed to be clipped and the operation had gone well.
Following Mrs Haynes death, it was found the surgeon had mistakenly clipped the blood vessels supplying her gut and liver, the coroner heard.
Dr David Hughes, medical director of the NHS trust, said the trust deeply regretted the circumstances which led to Mrs Haynes' death, for which it would "unreservedly apologise".
"On behalf of the Trust and the staff involved in her care all we can say is sorry."
A statement from Mrs Haynes' family solicitor said: "Following the conclusion of the inquest and the claim admitted by the hospital, the family are now able to move on and remember Nicole as a loving wife, mother, daughter, sister and friend."